ABOUT NHANDO HANDMADE
Hello,
Thank you for coming to Nhando Handmade.
Nhando Handmade was formed in September 2019 with the initial intention to connect with individuals who share my enthusiasm for handmade fabric flowers, as well as a place to remember little, happy stories about the attachment process. Every day, with a love of handcrafted – something new has entirely transformed my life.
I was not adequately schooled in art or design, nor was I skilled or creative in making handmade items, so when I inadvertently lost a hair tie purchased from VTV's Handmade Fair – Vietnam Television on March 8, 2016, I thought to myself, "Why don't I try to make a handmade hair band for myself?"
Photo: Nhan Do – Founder of NhanDo Handmade
I began searching YouTube for tutorial videos on how to make handmade fabric flowers. At the time, there was little interest in making handmade fabric flowers in Vietnam, so I learnt most of them from my friends in Russia, Mexico, and Spain. There are videos without English subtitles, so I mainly look at photographs, think, guess, and act at the same time. After that, I looked for places where I could buy ingredients. Fortunately, such a store is conveniently located near my home. And the first time I went there, I was instantly drawn in, from the world of accessories to the sales girls who are really friendly, lively, and attractive – I feel like I've entered a new universe – relax and enjoy.
I realized the peculiar delight when each fabric flower created by himself offers joy to others, making life around him more beautiful, from the first hair band as a gift to myself on March 8 to the hair band as a gift for my colleague's girls, and then gifting a hairpin to my boss. There's also some "pride" and joy.
One of the most important qualities that I have realized is that these little fabric flowers have an absolutely magical ability – it is to provide joy and "new" love to everyone with this lovely life, momentarily removing people's exhaustion and anxieties. Every time the receiver touches the fabric flower in their palm, their eyes light up with passion and delight. That joy radiates around the room and penetrates my heart. The more I push myself to make more and more gorgeous flowers, the more I enjoy it.
And guess what? When I'm feeling lonely, unhappy, or stressed, I turn to these handmade products. I'll start with small pieces of fabric in a calm, well-lit spot. The sensation from when the petals are still spread until you view the finished fabric flower is really calming and delightful. Handmade helps me minimize the concerns and stress of work, and it allows me to enjoy life and beauty more. Making handmade is also an excellent way for me to improve my grasp of fashion, art, and trends, as well as to develop patience and endurance for myself.
Every time I see a woman with a fabric flower on her chest or an Publisher's reader in the News wearing a flower brooch, I immediately "record" that moment and image in my mind, as if it were an unconditioned reflex. And then I'll picture, fantasize, and guess what fabric they're made of. How? What about the wing technique? Sometimes the inspiration comes from a real flower that blooms early in the morning on the front porch. Everything is so random and perfect.
Making handcrafted objects does not require too much expertise or a lot of flowers; but, if there is more ingenuity, it will be an additional catalyst to help things move faster. The most significant factor is your own dedication, perseverance, and desire – the urge to make lovely fabric flowers for your little girl's hair, a flower brooch for your mother, or just a plain flower. Simply change your own clothes. Furthermore, it is arousal, infatuation. As you are aware, handmade is a subject that is more about precise tinkering and necessitates a significant amount of time and work. If you can't devote more than one hour per day to it, you'll quit up quickly.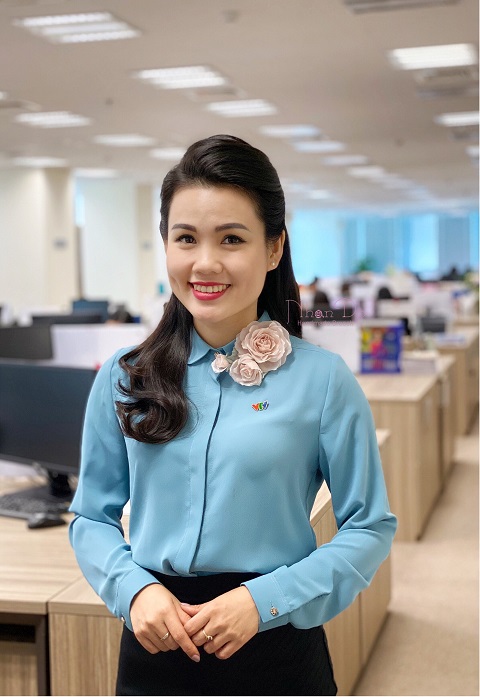 Photo: Ngan Ha, a loyal customer of NhanDo Handmade, is a publisher's reader.
Many of my acquaintances have come to me to learn how to make flowers directly, yet 90% of them give up. As a result, I desire and have created a website where I can share my journey, a little experience, or just tiny stories about my enthusiasm for handmade – handmade fabric flowers. So that anyone interested in learning about them may find and readily access them whenever they want. The Nhando website was also created with the intention of spreading love for handmade fabric flowers – love of beauty and love of life – by bringing simple good things to everyone, wherever. Or, at times, Nhando Handmade is a great collection that I come across or discover, as well as the impression from a handcrafted florist about trends in costumes, color schemes, or how to blend things, how to use 1 Fabric flowers change for costumes… to make women feel new, optimistic, and love life more.
I have started filming videos and uploaded them to my YouTube channel in the hopes of providing a closer, more intuitive view for everyone, which you can see more explicitly at NHAN DO HANDMADE YOUTUBE CHANNEL.
ABOUT ME
Finally, some words about myself: My given name is Nhan, and I go by the nickname Nhan Do (Sup Lo Tuoi). I was born in 1992, the Leo girl. National Economics University gave me a major in Corporate Finance. I was lucky to work at Vietnam Television Station from the time I graduated college until the beginning of 2019, when I transferred to the Bank's Trade Finance section. Working at VTV has given me the opportunity to connect with numerous editors, actresses, journalists, MCs, and others whose fashion sense I like. I used to fantasize of handing my own hand-made fabric flowers to the MCs during filming to make them more lovely and unique. My coworkers are also genuine people with wonderful taste and a passion for beauty, particularly in fashion. Everyone's love and affection at the moment gave me the courage to be passionate about Nhando's fabric flowers.
I'm glad you came to Nhando Handmade and read these lines. I hope I'll be able to see you more regularly in my handcrafted home. Please leave a few sentences about yourself or share anecdotes about your hobbies, abilities, and homemade products if you have time.