Good tips When Using Flower Brooches
With large brooches or asymmetrical shapes, you should skew the shirt side or on the high neck of the sweater.
Position
The position is the most important factor in using a beautiful flower set. Most outfits are not suitable for mid-line flower attachments, except for a few, like high-button shirts or long sleek coats. In addition to the collar, the small flower brooch, the symmetrical design will be suitable in other positions such as the middle of the neck or mounted on the waist of the dress, creating a delicate and luxurious beauty.
Note, avoid attaching flowers at the waist if you are wearing clothes made of thin fabric, this is not safe for the body. Conversely, large flower brooches or an asymmetrical shape, which is misaligned on one side or on the high neck of a sweater is more suitable.
The lapel is also commonplace to wear flowers, but it is important to pay attention to keeping proportions to the overall. Small lapels should only be used with small flowers, while large broad with many motifs will be proportionate to the wide lapel. You can also attach flowers as a subtle highlight on an over-pillow coat. Even the brooch can be used instead of a lock, but it's not recommended to use both at the same time.
If your outfit has a striped pattern, you should attach flowers on the pattern's path. For clothes with an asymmetrical pattern, it is not appropriate to attach flowers in the middle line.
Preservation
One of the reasons women are afraid to use flowers often because they are afraid of affecting the quality of clothing: torn, blotched, yellow … especially delicate, delicate clothes such as silk, chiffon, and satin. … Instead of using staples over time that can rust or stain fabrics, remove them and replace them with two small magnets.
After removing the needle from the brooch, wipe the surface with alcohol or acetone. At the same time, wipe off the magnets, then use glue to attach a magnet to the needle previously. When using, you put flowers on the shirt and clad the other opposite magnet on the inside of the shirt.
The above method can be applied to small, light flowers. For larger models, you should attach the magnet to the toothpick clamp to be more secure. This will help keep delicate clothing from leaving yellow pinholes.
Add it into hair accessories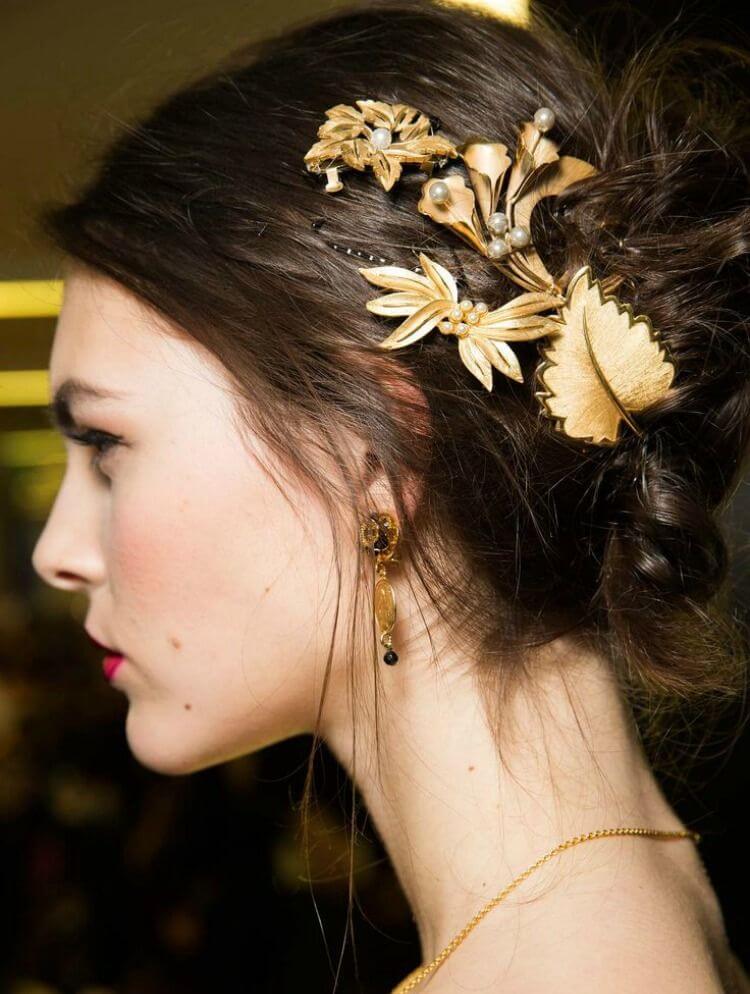 Flower brooch can turn into a beautiful hair accessory, can be used on special occasions or every day depending on the elegance of the accessory. You can remove the pin, then use glue to attach a toothpick to have romantic hair jewelry. Flower brooch will best suit when you choose high bun hairstyles in luxurious banquets.