4 must-have accessories for your vest more special
Men's suits often bring a sense of politeness, solemnity, seriousness, and a rigid feel. But when you choose to add something to your expensive, luxurious vest with a certain accessory such as bow tie, tie, brooch, square scarf …
It is these accessories that will help your already rigid vest back. so "soft" go a lot. Through these accessories, you can also speak up your style and personality with the other person.
Try to find out what those accessories are.
Men's vest pins
Vestel pins are also called lapel pins or brooches. These accessories are now available in so many types that people cannot classify or divide into specific types of pins. Only know that with the variety of pins and pins, the men can freely manipulate and make their suits more attractive.
The material to make these pins is mostly metal or plastic … Its shape can be like an ice needle, a woman's earring, or innovate into a multitude of different styles to show off personality, many unique shapes. unique and fancy.
Usually, pins are attached at the lapel of the vest or in the pocket of a shirt. Depending on the conditions and circumstances and environment that men use them flexibly for his men's suits.
Flower brooch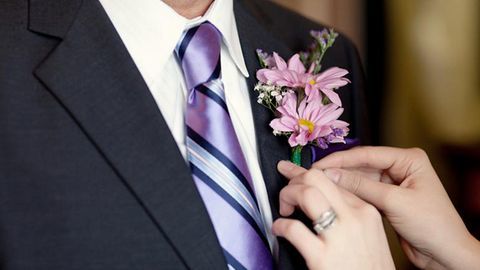 The designs of the flower brooch are also very rich and varied, but this is a relatively picky accessory. In addition to flowers, there are also fake flower patterns that are quite popular to choose for suits.
The pair of fabric flowers are also quite diverse with many different designs, sizes, and colors. Flowers should have prominent colors, not the same color as the vest.
The flowers used to decorate the groom's vest are often used with roses, lilies, orchids, carnations … The elegant and delicate flowers will suit the gentlemen more than the flower has a flashy color that stands out too. Choose fresh flowers if you use real flowers.
Pocket Square
Pocket Square is an indispensable accessory for a polite gentleman, unlike pins or flowers, a square scarf is usually placed in a small pocket on the vest and reveals a small portion of the scarf.
Scarfs are usually chosen with the same color tone as the tie or bow tie. That small scarf has great power in making a perfect suitor "fail" the whole set. Therefore, you must be very skillful in choosing and combining for the standard.
Butterfly bow vest
Another alternative to a tie is to use a bow tie. Just like a tie, a bow is also an accessory to honor the elegance and masculinity of men when wearing a suit.
The only difference is that the tie is a bit rigid, the bow creates a much younger beauty. Male friends can wear a bow at parties or awards ceremonies …
If you are a young person with a vibrant, dynamic personality, a bow tie will suit you better than a tie. This does not mean that the elderly, middle-aged people cannot use the bow. When you age or look old, the bow gives a different color to your appearance without losing your masculinity.
There are many men's fashion accessories for your vest to add a "splendid" look, you can choose the one that suits you, but remember not to use all of them for your vest. Should use at most two accessories for the vest only.