How To Wear Brooches Like A Star!
Take the Brooches on your clothes
1. Put on the collar
– Use a middle pin along the neckline or to the left side of the dress, shirt, and ao dai to increase the attractiveness and attractiveness of the outfit.
– You can use 2 pins of the same size and style to wear both sides of the shirt collar or use multiple pins to coordinate to create your own style. However, it is best to match colors according to the theme or a certain color gamut. And do not be too flashy to avoid the situation that you will become a shirt holder!
2. Wear at waistline
You can place a large pin at your waist instead of on the collar of your shirt or vest lapels. This will create interesting outfits you wear with you, also turning you into the center of the eyes of those around you to your waistline.
3. Use pins on vest lapels
Notice that there is always a buttonhole on the left lapel on the outer jacket of the suits? It's a location reserved for using shirt pins. A small shirt brooch can make your suit soft, attractive, less dry, and hard.
4. Replace the button on the top of your jacket or skirt with pins
Great if you have a combination of pins on top of a coat, shirt or skirt or dress. That interesting but intelligent highlight will blow new wind into your already familiar outfits. You can choose a sparkling stone pin to add more attraction and stand out.
5. Add a brooch to the back of the dress
If you have a deep V-neck skirt on the back, take advantage of that to add a brooch at the deepest point of the collar. This will create an outstanding, attractive, and eye-catching look for an attractive back. This will be a great choice to become aristocratic, luxurious in an event, party, or holiday.
6. Decorate jean jackets with shirt pins
Adding a clip to your jean jacket or leather jacket will be fun and unique. You can place them on the collar or lapel, the front of the jacket, the sleeve, and even the back. A jean jacket or a leather jacket is an outfit that brings a youthful dynamism, so for this kind of outfit, we just need to attach a pin to make them stand out. Feel free to combine different types of the brooch with different shapes and colors as long as you are happy and interested in the outfit you wear.
7. Place a pin on the sweater
For V-neck sweaters, place a brooch at the deepest point of the collar. For a round neck, place the shirt settings on the left side of the shirt. To break the way, you can put a pin on the shoulder, sleeve to create a new charm for your outfit.
Adding Brooches To Accessories
1. Pin on hats or wool hats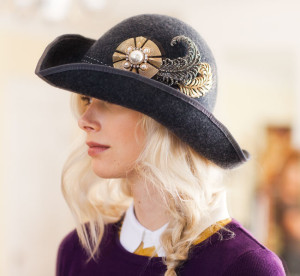 Use one pin to make a difference or set 1 pin to tell the story. You should set aside the pins to have a more harmonious and attractive look.
2. Use your brooch as a pendant
Most brooch models are not specifically designed for wearing necklaces, with special models having a threaded hook on the back of each staple. You can use leather straps, silk ribbon ribbons or string to make long fashion necklaces
3. Wear pins as a belt buckle
For slippery belts, try placing a pin on the front of the belt, or one side. The sparkling pin will make your waist very attractive.
4. Put a pin on your purse, clutch
If you have a simple purse or clutch that you like and always carry with you, adding a brooch to the top corner is a great way to animate and revitalize these familiar accessories…
5. Wear decorative pins and keep towels from slipping
Wrapping the scarf around your neck and loosely tying the look won't be as subtle as adding a pin to the intersection of the two ends to secure the scarf. Try this suggestion to create a new point for yourself.
6. Add a pin to the headband or use as a hairpin
Try wearing a pin to the side on a headband or in the center of a hair tie that will accentuate your hairstyle. You can also use it as a hairpin to add a little flair to your hair.